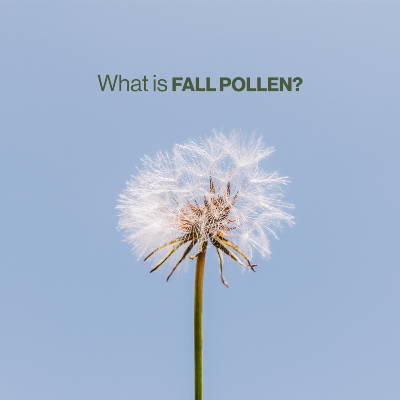 Fall pollen really is a thing! While we usually think of pollen as a spring trigger, fall is actually one of the peak pollen seasons — typified by reactions to the notorious Ragweed as well as other weeds and grasses. Later, when leaves and branches fall we see mold sensitivity occurring as well. September in particular can be a tough month.

We spoke to Dr. Neeta Ogden, an allergy, asthma and immunology specialist about the difference between spring and fall pollens, and what you should keep in mind this season.
Is there a difference between pollen triggers in spring vs. fall?
Yes! Spring pollens are typically tree pollen—which gives you that intense but short lived burst of sinus issues in the early spring and then also grass which last from later May into early June.
Why might someone experience a more intense reaction to pollen in the fall?
If someone struggles with Ragweed especially they will feel the fall season most intensely. Many people are also triggered by shifts in temperature like we see in the fall from warm to cool, which can irritate the respiratory system.
How can you tell if you have a cold due to seasons shifting vs. having a reaction to fall pollen?
Great question, and this can be challenging, but my rule of thumb is a cold is self-limited, meaning it will go away. If you find yourself thinking wait, I just had a cold, or I never got over that cold…it's likely you are struggling with a reaction to pollen, particularly if it recurs with every season.
Shop your new medicine cabinet ESSENTIALS